Custom Made Steam Turbines
Each Skinner steam turbine and Skinner turbine package is designed as an integrated system to meet your specific needs.
Over the years, customers have designated Skinner as the driver of choice for rotating equipment. Skinner Power Systems provides power solutions for unique operations with a focus on affordable budgets and with prompt delivery schedules. Our steam turbines provide maximum system output and optimum use of energy while increasing profit margins. More importantly, we give our customers reliability to help them enhance productivity and boost earnings.
To date, more than 20,000 of our turbines have been built and installed throughout the world providing customers with many years of outstanding operating performance driving pumps, fans, blowers, compressors, mills and electric generators.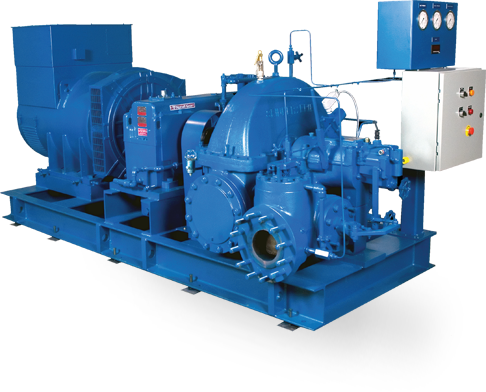 Standard Features
Option of Woodward Mechanical Governor units.
Mechanical overspeed trip.
Antifriction roller bearings for our SB units.
Horizontally split case for ease of maintenance.
Multiple carbon ring gland seals.
Foot mount or centerline support system (depending on the chosen unit).
Large bearing housing with constant level oilers and integral cooling water jackets (availability depends on model and turbine conditions).
Wheel with stainless steel blades.
Large efficient nozzles with steel reversing nozzle.
Cage guided throttle valve.
17-4 stainless steel turbine shaft.
Simplicity of design assures reliability and low maintenance.
Stainless steel strainer.
Sentinel warning valve.
Condensing or non-condensing.
Optional exhaust location.
Option for different rotation of wheel.
Optional Accessories
Special Purpose Governors

Forced Feed Lubrication System

Safety Shut-Down Systems

Hand Valves

Steam Seal Piping

Special Shaft Extensions

Blanket Insulation

Baseplate or Sole-Plate

Speed Reducing or Increasing Gears

Steam Gauges and Thermometers

Tachometers

Electronic Controls

Switch-Gear

Complete Package Systems

Rotation

Exhaust location