Largest and Most Powerful in the Skinner Lineup
The Skinner SK25 steam turbine is our largest machine and is rated up to 3000 horsepower. It is suited for special purpose applications or larger electric generator sets than con produce up to 2MW of power. It offers power and speed in the range you need for your application. Designed for increased efficiency and ease of maintenance, it includes these standard features:
Velocity design with 2 wheels for ease of maintenance with easily replaceable blades
Horizontal split construction for inspection and overhaul
Sleeve type radial bearings, tilting pad thrust bearing
Force feed lubrication standard on this unit
Electronic speed controls for safer
More efficient operation and communication to plant operating systems
The SK25 can have up to 12 internal nozzles separated in increments of 3 each. The steam chest has 3 ports (1 main and 2 auxiliary) feeding the 3 nozzle increments into the turbine. The auxiliary ports can be fitted with manual or auto hand valves for partial steam load applications. The turbine is sized for maximum steam flow and power generation.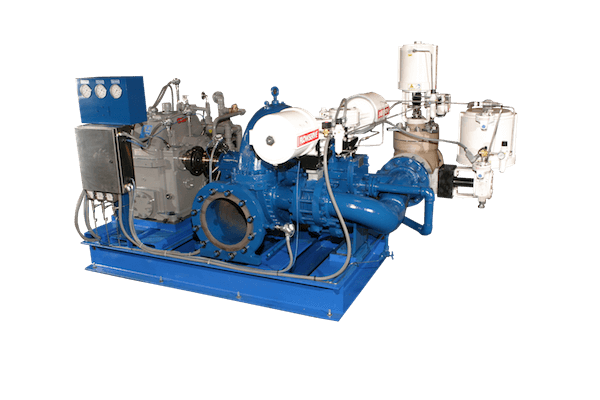 Standard Features
Air Actuator with Digital Positioner.

Positive overspeed trip.

Sleeve type journal bearings.

Kingsbury thrust bearing.

Horizontally split case for ease of maintenance.

Multiple carbon ring gland seals.

Centerline support system.

Forced Feed Lubrication System.

Large bearing housing with constant level oilers and integral cooling water jackets.

Forged wheels with stainless steel blades.

Nozzle ring with steel reversing segment.

Cage guided throttle valve.

17-4 stainless steel turbine shaft.

Design assures reliability and low maintenance.

Stainless steel strainer.

Sentinel warning valve.

Condensing or non-condensing.
Optional Accessories
Special Purpose Governors

Automatic Remote Start-Up and Shut-Down Systems

Safety Shut-Down Systems

Hand Valves

Steam Seal Piping

Blanket Insulation

Baseplate or Sole-Plate

Speed Reducing or Increasing Gears

Steam Gauges and Thermometers

Tachometers

Special Materials

Electronic Controls

Switch-Gear

Rotation

Exhaust location

Complete Package Systems